Have you ever heared about "Imperfect Samples"? If you are searching for a realistic sound of a virtual piano you might want to take a closer look.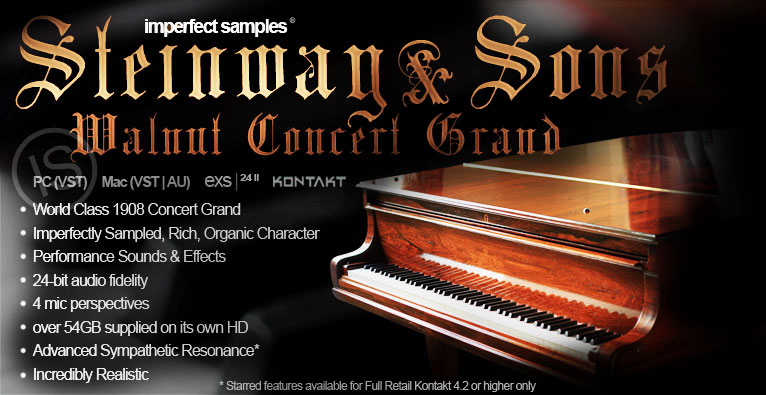 Imperfect Samples currently offers five piano sample libraries: Braunschweig Upright Piano, Hohner White Baby Grand , Ebony Concert Grand, Steinway and Sons Walnut Concert Grand and Brasted Broken Upright Piano. There are diffrent quality models for each of them. From Basic-Edition, that has less samples and layers till Extreme-Edition that comes on a own hard disc because of the huge amount of samples (54 GBytes) which is probably too much for download. The prices differ of course between the Basic, Pro, Complete and Extreme editions.
I was impressed of both, Steinway & Sons Walnut Concert Grand and Ebony Concert Grand, but unfortunately I don't have the money to buy both and I wanted to have at least the complete version, so that there are at least 16 velocity layers for each key. The Steinway and Sons seems to have the more natural sound, at least from their samples.
Steinway & Sons Walnut Concert Grand
The price has a huge difference between the Basic and the Extreme edition. Also it seems that the extreme Edition is not working as VST Plugin.
Steinway Concert Grand (Basic) (VST | AU | EXS24 | Kontakt)

8 layers of this rich grand with 1 mic position
£39.99 ( ~ $59.49)

Steinway Concert Grand (Pro) (VST | AU | EXS24 | Kontakt)

Up to 15 layers and 2 mic perspectives of this rich grand
£89.98 ( ~ $133.86)

Steinway Concert Grand (Complete) (VST | AU | EXS24 | Kontakt)

Up to 16 layers and 3 seperate mic perspectives of this rich grand
129.97 ( ~ $195.24)

Steinway Concert Grand (Extreme) (EXS24 | Kontakt)

Up to 100 layers spread across 4 mic perspectives (Up to 25 layers in each perspective), hard drive included
£199.96 ( ~ $299.99)
Buy or not to buy
Here are some facts you might want to know before you buy an Imperfect Sample product.
The sample library comes with a VST plugin which is basically a wrapper to their AU plugin. The problem is that you really cant setup anything, no velocity curves and not even all of their sample libraries will work. Simple say you dont want to use VST or AU plugin, its crap. The only integration that works is the one that makes use of Kontakt player to process the samples. So you really really need Kontakt 4 or higher to use Imperfect Sample library properly.The good news about that is that it shouldn't be a problem that the extreme version is not working as Standalone VST plugin, since you will use Kontakt as VST Plugin. But the price of $299 is maybe only a good choice for professional musicians.
If you want to record any note you probably want to have Logic or Cubase too. So here is what you need to record and edit piano music with the Imperfect Sample Library:
$60-$299 Imperfect Sample Library
$300 Kontakt 4 or higher (You might want to consider to buy Komplete 9 or higher)
$200 Logic or Cubase for recording
Here are some sound examples I made with it.